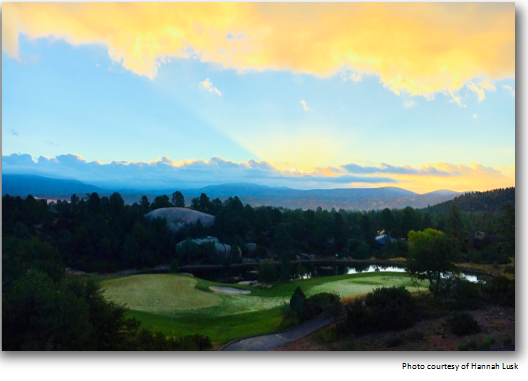 National Park in your backyard. Tonto National Bridge, just 10 miles north of Payson, is believed to be the largest natural travertine bridge in the world. This amazing sight is breathtaking with, or without the hike down and passing under, letting the light reflect playfully through the waterfall that flows over the top and into a refreshing pool below.
Fresh air. Payson is home to the world's largest ponderosa pine forest, which serves as a natural scrubber for the air. The result: pure clean blue skies, puffy white clouds, and an atmosphere that begs to be breathed deeply. That's what we call real world aromatherapy.
Deep rooted western history. Payson is home to the world's oldest continuous rodeo. While Prescott's rodeo technically started in 1888, that town paused their rodeo for the years of WWII. The Payson Pro Rodeo began in 1884, but the "experts" did not find the early days of the Payson Rodeo to be 'organized' enough for consideration toward the record. However, Payson took no pause during those war years, so the title of oldest "continuous" rodeo was distinguished as an official title for Payson. In any event, every year in August, Payson hosts a spectacle for the senses. Tourists flock from around the globe to experience the broncs and blood of our old west tradition.
Year-round festivals. The Rim Country boasts a vivacious year of regional festivals, fairs, and other activities, enjoyed by locals and visitors alike. With four seasons of livable outdoor weather, the Payson area offers an array of festivals catering to myriad tastes and passions in every month of the year.
Outdoor recreation galore. Do you fancy hiking? Horseback riding? Rappelling? Water sports? Mountain biking? Then Rim Country is calling your name. The Payson area is ripe with natural beauty and topography for the active adventurer. Come play with us!
Animal friendly community. Locals like to joke that it is easier to be an animal than a human in Payson. They aren't far off. Our community is full of animal lovers. Our humane society is second to none, and our pet owners, well…just try to find anywhere you can't take your beloved Fido in our little community. We love the furry kiddos here, and it shows!
The Heart of Arizona. Literally, we are geographically at the center of the state. We boast an intimate small-town community, while also just one hour from the larger metros in any direction. That gives us literally the best of both worlds. Come here for the intimacy, stay here because you can escape to the "hustle and bustle" of easy commerce and conveniences without any hassle.
Geologic playground. Payson is, quite simply, a rockhound's paradise. Diamond Point, just east of Payson, has one of the largest natural Amethyst mines in the United States. The desert surrounding Payson is flooded with agate geodes. Ranging in diameter from tiny to almost grapefruit sized, these brain-like rock spheres are abundant hidden-treasure Easter eggs for geologists to crack open.
Longhorn Pride. We are a proud community who invests in their youth. Years ago, our public school system adopted the mascot of "Longhorns" to apply to students in all levels of education; elementary, middle, and high schools. Today, public school students in grades K-12 now identify as Longhorns. This establishes community ownership, pride from youth, and extends generations beyond. We are proud to cheer our Longhorns to victory, no matter their age or sport/activity. WE. ARE. PAYSON. LONGHORNS.
Iconic water tower. This landmark says home to locals. To visitors as they enter town from the busy metro Phoenix area in the south, it whispers: peaceful retreat.
Weather! Due, in part, to the cosmic fortune of our ideal 5,000 foot altitude (yes Payson is also technically a MILE HIGH town) we experience all four distinct seasons without suffering through any of them. Score!! We get the picturesque aspects of each bit of winter, summer, spring, and fall, complete with bragging and Facebook posts, but also get to avoid the extreme seasonal discomforts experienced by our neighbors in any direction.
Sunsets that practically invented the postcard industry. Stop and look at the sky at sundown. Look a bit different than what you're used to? We do it differently here in Payson, where the sky gets painted every evening in sprightly fun colors and fancifully delights senses. Camera phones come out quite often here. No Instagram filters needed for this spectacle. We have the real thing.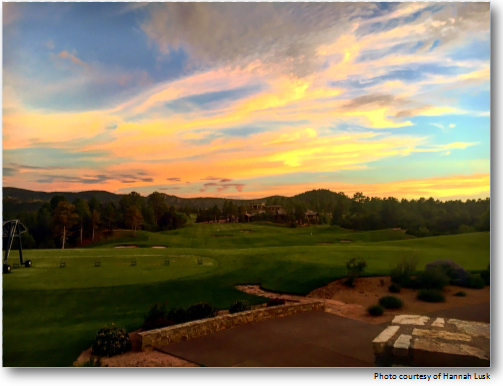 Faith: With a population just over 15,000 and active places of worship numbering over 70, we are a town with no shortage of options for your spiritual needs. In fact, many new residents list access to a preferred place of worship among the top reasons for relocating to our area.
Casual Friday, every day. We definitely don't tend towards the gussied-up, fancy types. Even our higher-brow industries do it a little less formally than the big cities. Jeans, hoodies, and ball caps are standard. If it is fancier fare, we have to spell it out in advance, or understand that a cowboy hat and some boots, maybe times twenty, might show up to the occasion.
Life moves a little slower. We notice the things that the big city folk seem to look past. Like sunsets, conversations with neighbors, and the world shutting down in a snow storm. These are the pleasures and perks of small town life in Payson.
Smiles, waves, conversation. Friends, family, acquaintances, and yes, even strangers are acknowledged and engaged with here. We see you.
Dark Sky Community. In 2017, Payson attempted to become the 5th officially recognized dark sky community in the world. While the bid did not eventuate politically, we pride ourselves on our commitment to enjoying the stars in the sky, and keep our lights low in the evening hours to be able to see the celestial light show that greets us from above each night.
Nature up close and personal. See the squirrels, and the elk, javelina, even the occasional bear. Hear the birds, heck, smell the fish. We have nature here, in so many forms. Our flora and fauna are incomparable, and we are able to experience it on a daily basis.
That view of the Mogollon Rim. In a word: breathtaking.
Traffic? Nonexistent. Test us. Come on up.